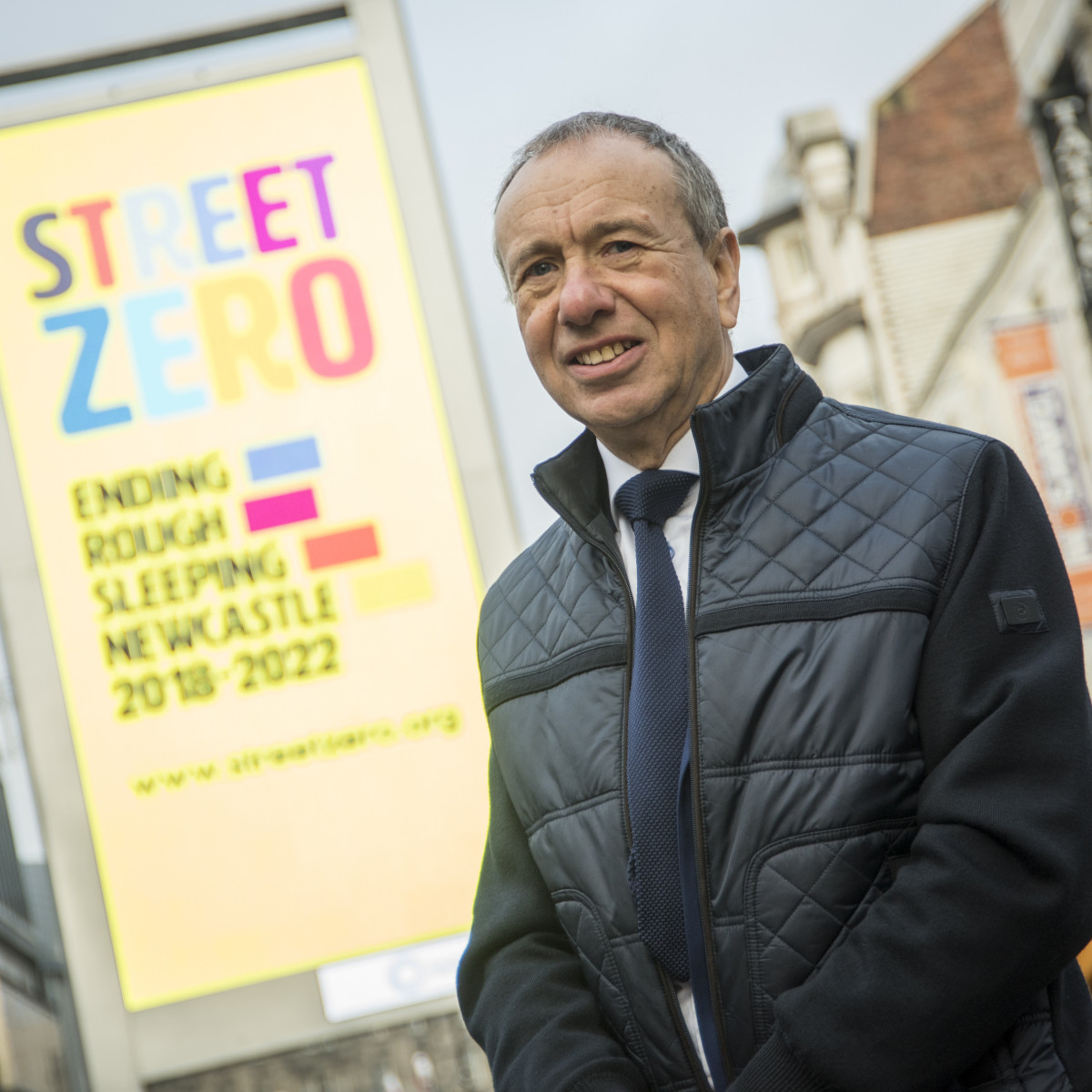 Bishop Christine has sent her personal congratulations to the founder of Newcastle Homeless Commission, Bob Eldridge MBE, who has been named Charity Leader of the Year in the North East Charity Awards.
Bob, a member of St Andrew's Church, Corbridge, scooped the award in recognition of the tireless work he does to support rough sleepers and his ambition to end homelessness in Newcastle – an aim which is edging closer to reality.
Two years ago, Bob established Street Zero – of which Bishop Christine is patron - as a way to coordinate city-wide efforts to prevent homelessness and eradicate rough sleeping in the city by 2022.
And in the last year alone, there has been an 82 per cent drop in the number of people sleeping rough in the city. Newcastle is now near to becoming the first UK city to end rough sleeping for good.
Bob, 73, said: "Winning Charity Leader of the Year was quite a shock when announced - but as Chairman, it is the 16 partner organisations which have worked continuously throughout the lockdowns to keep homeless services open during this difficult year who deserve much credit. It is this which has resulted in the significant reduction of 82 per cent in rough sleeping."
During a successful career in the private sector in which Bob established his own retail consultancy, he was also one of the driving forces behind the People's Kitchen – an organisation set up over 30 years ago to provide food to homeless and vulnerable people, which has now evolved to offer a range of services for those most in need in Newcastle.
Bob says his 'strong desire' to support the most vulnerable in our society stems from his Christian faith: "I feel compassionate about the vulnerable in our city and have done ever since finding the love of Jesus - who teaches us to love our neighbour - as Christians we all have different gifts and responsibilities before our Lord. I had an empathy to do something practical as a volunteer to help those marginalised in our society."
Bishop Christine praised the efforts of Bob and his inspirational work. She said: "Bob has devoted years to helping rough sleepers, first at the People's Kitchen and now at Street Zero. He is a driving force for change, never giving up even when problems seem insoluble. All that he does is deeply rooted in his Christian faith - 'Truly I tell you, whatever you did for one of the least of these brothers and sisters of mine, you did for me.' (Matthew 25.40). It is quite extraordinary what, in God's grace, he has achieved. Newcastle can be proud of him."
Although great strides have been taken in the last two years to reduce homelessness in Newcastle, Bob says there is much still to be done.
Following the outbreak of Covid-19 and the lockdown in March, Newcastle City Council moved every person who was rough sleeping into hostel accommodation.
Figures from the beginning of the year up until November, show 185 people who were living on the streets have now moved into accommodation and 120 people have moved on from hostels into independent living in the community. By spring next year, it is anticipated that 117 new self-contained flats will also be in use.
Street Zero partners are working to help people who were rough sleeping transform their lives, as well as supporting the few individuals who have returned to the streets.
Bob, who lives in Corbridge with his wife and three children, added: "Although we are encouraged by this relative success, Street Zero still sees it as an absolute failure that anyone sleeps rough in Newcastle.
"We are learning a lot from the pandemic and know there are areas where we can improve, especially considering the uncertain months ahead. We need to address some of the challenges that the most vulnerable will face going forward - this means ensuring that partners continue to work closely together to support people in their new accommodation providing them with the mental health and addiction support as well as activities such as arts, crafts, and sport to help people re-engage with society.
"Moving forward, we should consider the best solution for the individuals who are entrenched in life on the streets and reject the alternative to sleeping rough. We expect that this will be small in number, but we must be prepared to provide specialist support in these circumstances.
"Street Zero partners are the unsung heroes working tirelessly throughout the outbreak and subsequent lockdown to make this significant step-change in transforming the lives of people sleeping rough in our city. We aim to get this over the line and end rough sleeping once and for all."