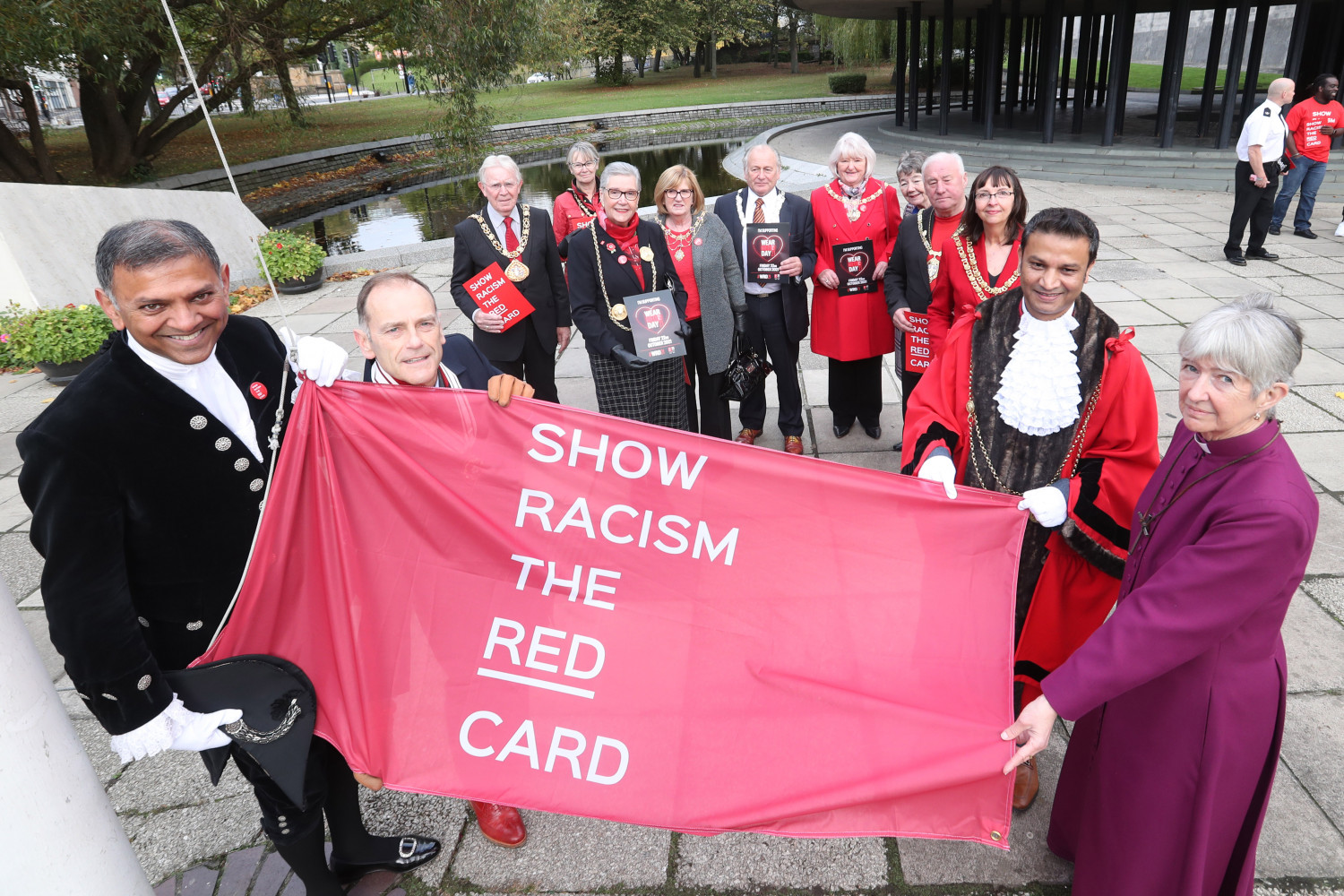 Photo credit: Steve Brock
The Lord Mayor of Newcastle, Councillor Habib Rahman met with the Right Revd Christine Hardman and other significant figures in Newcastle last week to honour Show Racism the Red Card's 'Wear Red Day'.
The Mayor, who is the first black, Asian or minority ethnic person to take on Newcastle's highest ceremonial post, pleaded with the people of Newcastle to put an end to racism. As reported in The Chronicle, he said: "people like me have suffered far too much. Racism is the biggest act of terrorism.
"A form of terrorism that has haunted and terrorised communities, divided communities and nations, created 'us and them' among us, deprived and stripped off basic human rights and liberties for many of us.
"For centuries and decades, it has destroyed too many lives and literally killed far too many of us in individual and collective acts of terrorism. This terrorism must stop now."
Bishop Christine added that the North East can take "proper pride" in the way it has combated racism, but emphasised that "we cannot be complacent."
Bishop Christine and Mayor Habib Rahman were joined outside Newcastle Civic Centre by former Newcastle United players, other mayors from around the North East and Northumbria Police and Crime Commissioner Kim McGuinness.
The collective stance of these individuals served as a great motivation to social rights movements, anti-racist projects and victims of racist abuse.
Show Racism the Red Card was a charity birthed in Newcastle after Newcastle United goalkeeper Shaka Hislop received racist abuse at a petrol station. After the abusers discovered who he was, they immediately asked for an autograph.
Since January 1996, Show Racism the Red Card (SRtRC) has continued to use football and football players to help tackle racism in society, using their status to deliver workshops to young people and adults in schools, workplaces and at events held in football stadiums. Across the UK, SRtRC provides sessions for more than 50,000 individuals per year.
There are also a number of educational tools available online, such as resources, activities and films.