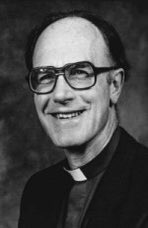 BISHOP RONALD OLIVER BOWLBY, RIP
1926-2019
It is with sadness we inform you of the death of Bishop Ronnie Bowlby on Saturday, 21stDecember, 2019.
Ronnie died, supported by the love and steadfastness of his daughters and sons and by excellent care in the home where he spent his last years on Saturday evening.
We will circulate details of his funeral arrangements, when they are known.
Parishes and Clergy are asked to remember him, his daughters and sons, Rachel, Rick, Chris, Anna and Tom, and their families in your prayers. Should you wish to be in touch with them, they have a joint website: ronnie.bowlby.family@gmail.com
Bishop Ronnie was our much loved Diocesan Bishop from 1973 1980, before being appointed Bishop of Southwark and was a great champion, encourager and supporter of womens ministry in the Church.