By Anne Wager-Bradley, Reader in the United Benefice of Bedlington, Cambois & Sleekburn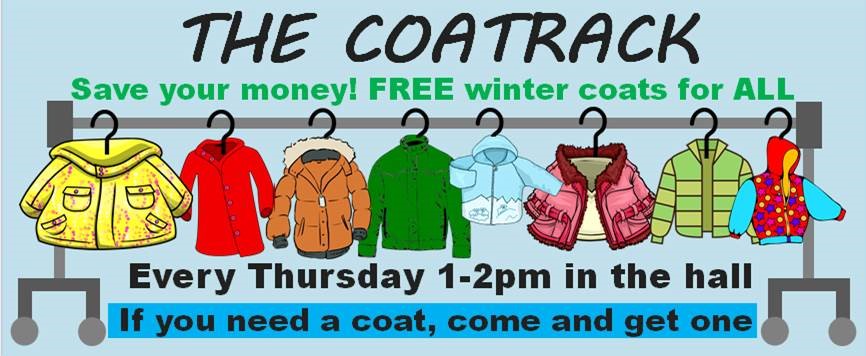 'Coat Rack' is not the brainchild of St John's Church Sleekburn, one of the three parishes which go to make up the United Benefice of Bedlington & Cambois. The idea is to be found all over Europe and Turkey, where it is often called the 'wall of kindness'.
However, as an idea to help their community and to demonstrate that their church cares and is involved, the congregation of St John's really warmed to the notion of giving a coat away free, to anyone who asked or needed one. After all it is very much an Advent theme, as attested to by the words of John the Baptist, in last Sunday's gospel:
'Whoever has two coats must share with anyone who has none' Lk 3:10 NRSV.
The lead up to Christmas is a very expensive time for everyone. Someone told me they had saved up for a new coat then their microwave blew up, and that money was needed for something else. We've all been there, so the coat giveaway is for everyone.
St John's was very fortunate in having a number of partners in this venture. Josh Armstrong, a 15-year-old member of St Cuthbert's congregation, was very taken when he heard an announcement in church that coats were needed. He took the idea to his School Counsel at Bedlington Academy, and a coat collection began.
Josh said: "I have been a follower of Christ for a long time and when I heard of the appeal, I began to think about what I could do for my community". Very well done Josh!
Other partners in the appeal have been; the parishes of Aln & Coastlands, whose congregations have donated lots of coats, Koast Radio, who have publicised the 'give away' and Alnwick Oxfam, who have loaned us a very sturdy coat rack, along with others.
We have had much support from our sister parishes in the form of prayer, advertising and of course coats!
So far, we have re-homed 57 coats, but have about a hundred more, very good quality coats - including some brand-new ones for children - to give away, as well as lots of scarves and a few hats.
Thursday 16 December 1-2pm in St John's Church Hall, Sleekburn, is our last opening before Christmas, and we want to give away every coat!
It has very much been a team effort, from those who helped prepare the coats and display them, write a little note for the pocket, or helped people decide which coat suited them best.
Jean Wright, a member of St John's congregation, said about the venture: "The generosity of the people around Bedlington and Northumberland has been out of this world.
"The whole experience has proved that given a chance and an idea, people are more than happy to help others. The congregations of all three churches have benefitted from the experience."
For more information you are welcome to contact myself, Anne Wager-Bradley, at awwb@btinterenet.com