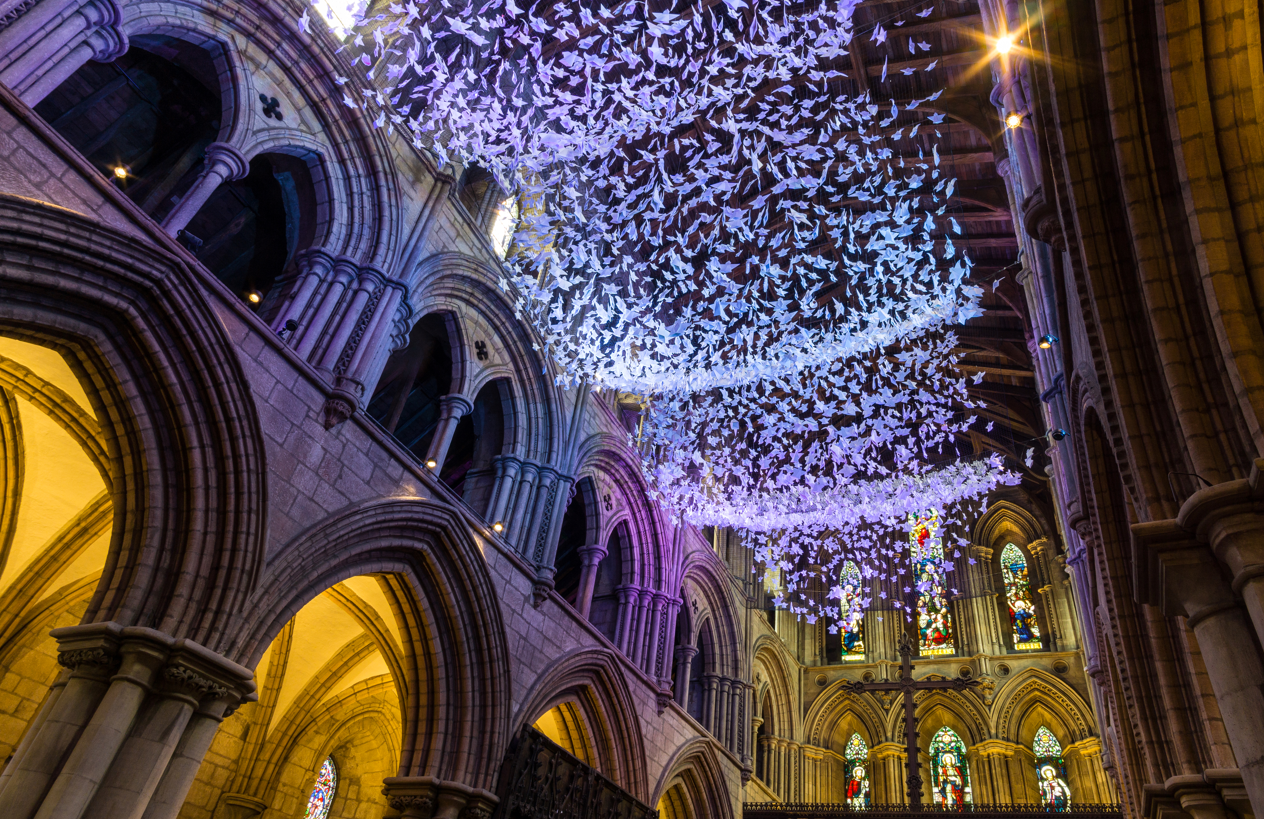 Hexham Abbey's stunning 'On Angel Wings' installation has raised more than £6,000 for charity.
Thousands of hand-made paper angels were suspended in the abbey from the end of June until mid-October, attracting visitors from all over the UK and beyond.
The installation was erected in response to the Covid pandemic, honouring those who have served relentlessly throughout, those who have lost their lives, and those whose lives have been affected.
Donations totalling £6,350 have been split equally between the 'On Angel Wings' partner charities Tynedale Hospice at Home and Great North Air Ambulance, with cheques presented to both organisations in October.
By the end of the installation, almost 6000 origami angels – each dedicated to a loved one –gracefully floated 45 feet above the abbey's chancel, while a colourful exhibit of rainbow angels on the ground greeted visitors.
People from far and wide made the journey to the abbey, including many first-time visitors, to witness the spectacular sight – with footfall up by 17 per cent in August alone compared to the same period in 2019.
In total, almost 53,000 people stepped foot in the abbey from July to October, with footfall jumping by eight per cent in comparison to 2019 – a remarkable feat considering the impact of Covid on cultural and heritage sites over the last 20 months.
Cath Newson, Hexham Abbey's fundraising manager, said: "We were delighted with the way in which the community engaged with this installation. It encouraged many first-time visitors to the abbey and the rainbow board made prayer more accessible to many. It has been a source of comfort to many people who lost loved ones or were separated from friends and family during the pandemic.
"The generous response from visitors to our appeal for funds for Tynedale Hospice at Home and Great North Air Ambulance has been wonderful and we have been delighted to support their work. Huge thanks must go to all the staff and volunteers who enabled this project to be so successful."
Engagement from the public was overwhelmingly positive with many people writing poignant and moving messages in support of the installation, including:
"The angels drew me to Hexham Abbey…very beautiful and calming in a world full of fear."
"This is the most beautiful tribute I have seen. I lost my Dad to Covid. Thank you for doing this installation. Hexham is truly a bereavement friendly community. Bless you all."
"So beautiful, thank you for sharing, from South Africa."
Ten of the dedicated angels have been sent to the Science Museum in London to join a collection of artefacts acting as a permanent record of the response to the Covid pandemic and its impact on our society.
Many of the blank angels have been collected by Kirkwhelpington Memorial Hall which is running a similar installation during Advent.
The abbey's Conservation Team has kept a selection of dedicated angels for its archive and the rest have been composted.
Hexham Abbey's Shop is selling 'On Angel Wings'-themed gifts including jigsaw puzzles (£22), postcards (65p) and greetings cards (£2.80).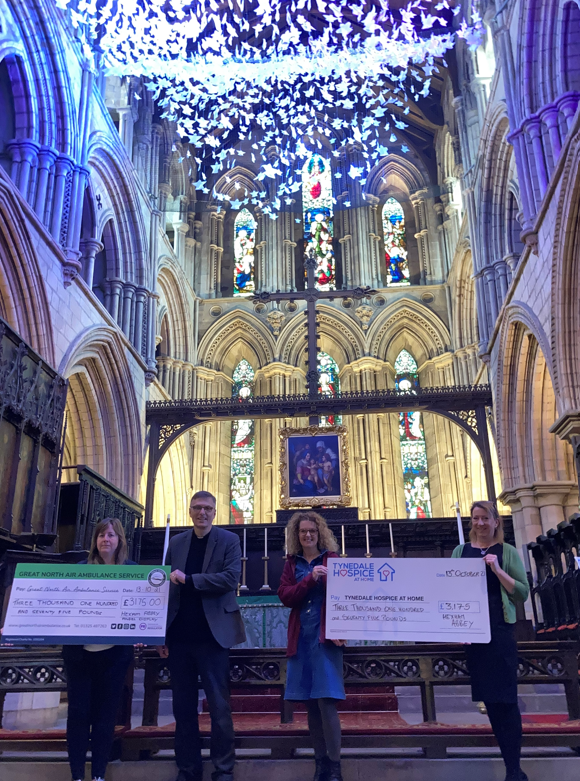 (left to right) Deb Gibbs, community fundraiser at GNAAS; Revd Canon David Glover, Hexham Abbey Rector; Cath newson, Hexham Abbey fundraising manager and Tynedale Hospice at Home's Cathy Bates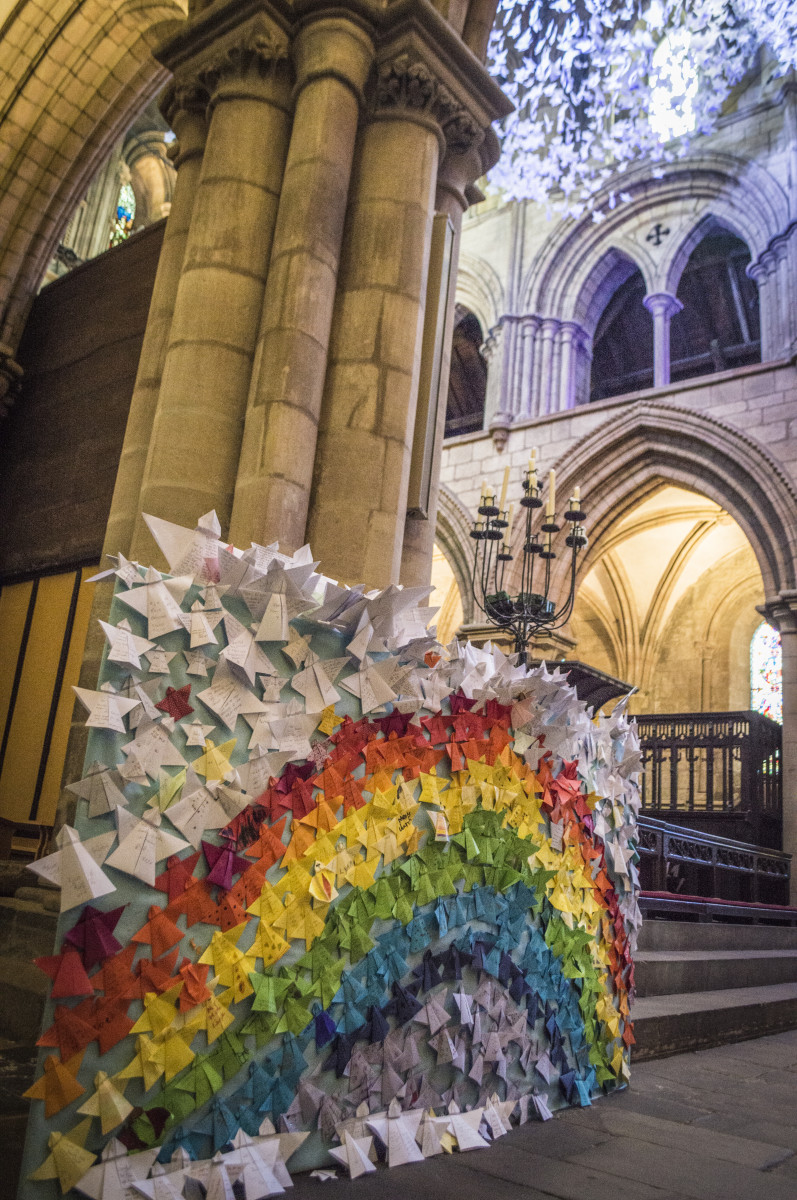 The angel rainbow - a symbol of the pandemic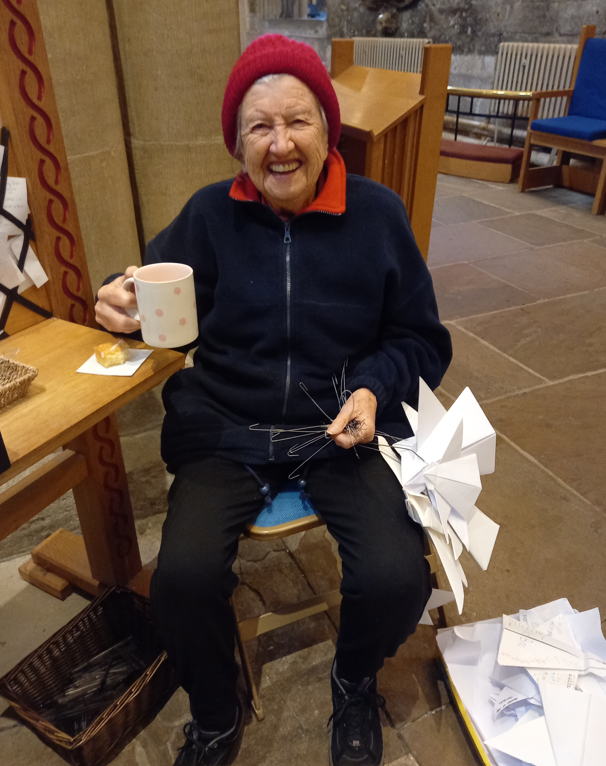 Lilian, a member of the abbey, helps with the task of de-rigging the installation