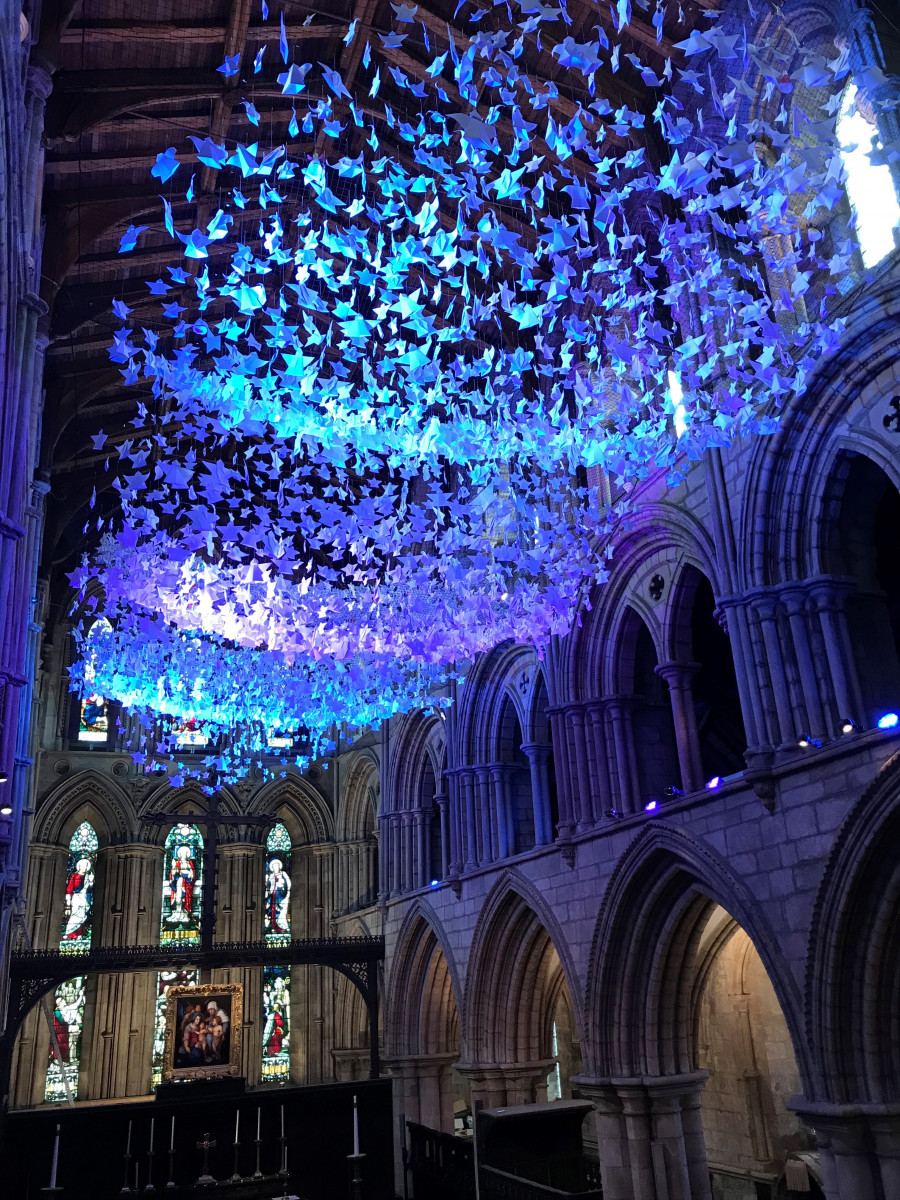 An awe-inspiring sky of heavenly angels is floating in Hexham Abbey as a moving tribute to all those affected by the Covid pandemic.
'On Angel Wings' is an illuminated aerial installation of 4,500 origami angels suspended 45 feet above the abbey's chancel, stretching from the high altar to the old choir stalls.
An army of volunteers, including school children, abbey staff and members of the public constructed each paper angel by hand.
Inspired by Ripon Cathedral's 2020 'On a Wing and a Prayer' installation, 'On Angel Wings' honours those who have served relentlessly throughout the pandemic, those who have lost their lives, and those whose lives have been disrupted by this challenging period.
Each angel represents an individual or group of people precious and cared about by someone else, with the names of those honoured written on the angels' wings as a symbolic gesture.
The angels are high enough that dedications can't be read from the ground, keeping those memories and thoughts private but still present - much like a prayer.
Cath Newson, Hexham Abbey's fundraising manager, said: "We wanted to create a space that allowed members of the community to commemorate individuals affected by the pandemic, providing an opportunity to reflect on the recent past and celebrate the values that have sustained us during difficult times.
"I am delighted with the engagement from the community, including local schools, community groups and visitors to the abbey. The response to our installation has been overwhelmingly positive and we look forward to welcoming more visitors over the coming weeks."
Some origami angels are still available in the abbey for dedication and these will be suspended with the other angels as often as possible by the verger.
There is no charge to visit or dedicate an angel, but donations are welcome for the project's partner charities Tynedale Hospice at Home and Great North Air Ambulance Service.
Donations can be made online or via the contactless donation point in the abbey by selecting the 'On Angel Wings' option.
Revd David Glover, Rector of Hexham Abbey, said: "I am so delighted that our 'On Angel Wings' installation has proved to be so helpful and inspiring to so many people who visit the abbey.
"So many of the angels hanging above the abbey's chancel represent people's sadness, thanksgiving and hope after such a traumatic 18 months and I hope that the installation is a reminder that God is with each of us as we emerge from these dark days.
"As part of the installation we are inviting people to give generously to the work of two wonderful local charities as a way of expressing our gratitude to everyone who has given so much to support others during this long pandemic.
"I am hugely grateful to Cath Newson, and her team at the abbey, for all the hard work they have done to enable this installation and to Ripon Cathedral who inspired us to do this."
The installation has been funded by a government grant via its Cultural Recovery Fund.
'On Angel Wings' is on display until the end of the school summer holidays and is open Monday to Saturday, 10am-4pm and Sundays, 11am-3pm