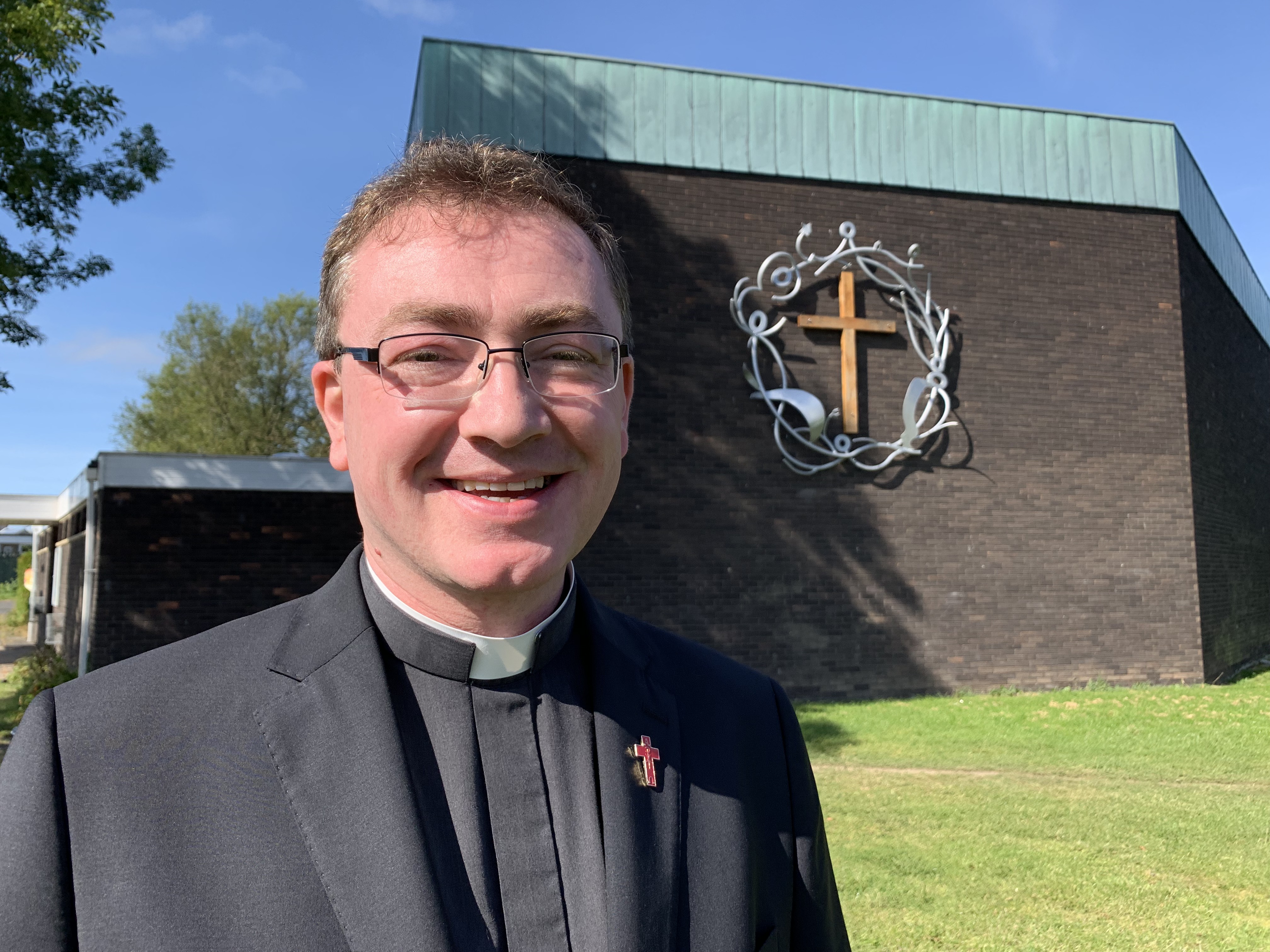 The Reverend Dr Tony Curtis, vicar of St Marks Shiremoor, is about to take up an exciting new role 11,000 miles away!
Tony, who has been at Shiremoor since 2013, has been appointed the new Dean of the Cathedral Church of St Paul in Dunedin, New Zealand. It follows the retirement of the Cathedrals former Dean, the Very Reverend Dr Trevor James last year.
Tony, his wife Rachel and their two children Gabriel and Ziva are hoping to move from the North East to New Zealand as soon as visas and accommodation can be arranged.
Over the years Ive found myself saying to people that just when you think youve got things sorted, and youre quite comfortable, God comes around and turns things upside down and says No, forget that, Im going to send you somewhere new, give you a new challenge, and itll be great, explains Tony. Having said that to everyone else, I thought it would be a bit rude if God came along and did it to me and I didnt listen.
Tony says of St Pauls Cathedral that its a beautiful building right in the heart of the City Centre, with lots of potential for outreach, and the Diocese and the Cathedral community have already given us a very warm welcome, so Im looking forward to getting started.
So what is Dunedin like?
Its right down there in the south of New Zealands South Island, so its quite literally the furthest city in the world from Newcastle, which is going to be a pull for me, but its a beautiful part of the world - the Diocese is huge and has a lot of landscapes that people will recognise from the Lord of the Rings! The city itself is a coastal city, a University town with lots of culture and arts, so not too different from Newcastle.
Dunedin comes from the Gaelic name for Edinburgh and was founded by a free Scottish community spiritually led by Robbie Burns nephew, so theres a big tradition of Scottish and North East Heritage there and people are proud of that link.
Once he takes up his new role, Tony will also work closely with other faiths, something he has strong experience of in Newcastle Diocese. Just a year ago, 51 people died in the Christchurch mosque attacks with the killer living in Dunedin something that shocked the community.
People in Dunedin were shocked to learn that the killer had spent some time in Dunedin before the attack took place and its made people think about how we look after each other as communities and really given new impetus to that interfaith aspect. Thats something Ive been involved with a lot in Newcastle with Lesley Hillary, Bishop Christines advisor, and our colleagues and friends from different faiths, and Id really like to build on that in Dunedin, and show how were stronger together when people of faith can support each other.
Although excited about his new challenge, Tony will miss Newcastle Diocese.
Were really going to miss people. Im going to miss all sorts about the North East - were going from one of the most beautiful and special parts of Gods kingdom and I think were just lucky that Ive been called to serve somewhere that can make the same claim.
Tony is unlikely to have a shortage of visitors from the UK when he starts his new role, such is the excitement about his move. I have had one or two offers from people whod like to come and do some chaplaincy work or maybe visit for a few months!
Commenting on his appointment, the Bishop of Dunedin Steven Bedford said: I believe Father Tony will be an asset to the ongoing life of the Cathedral and will contribute positively to both the Diocese and the wider New Zealand Church. I am delighted to be able to welcome Fr Tony, Rachel and their family to the Diocese."