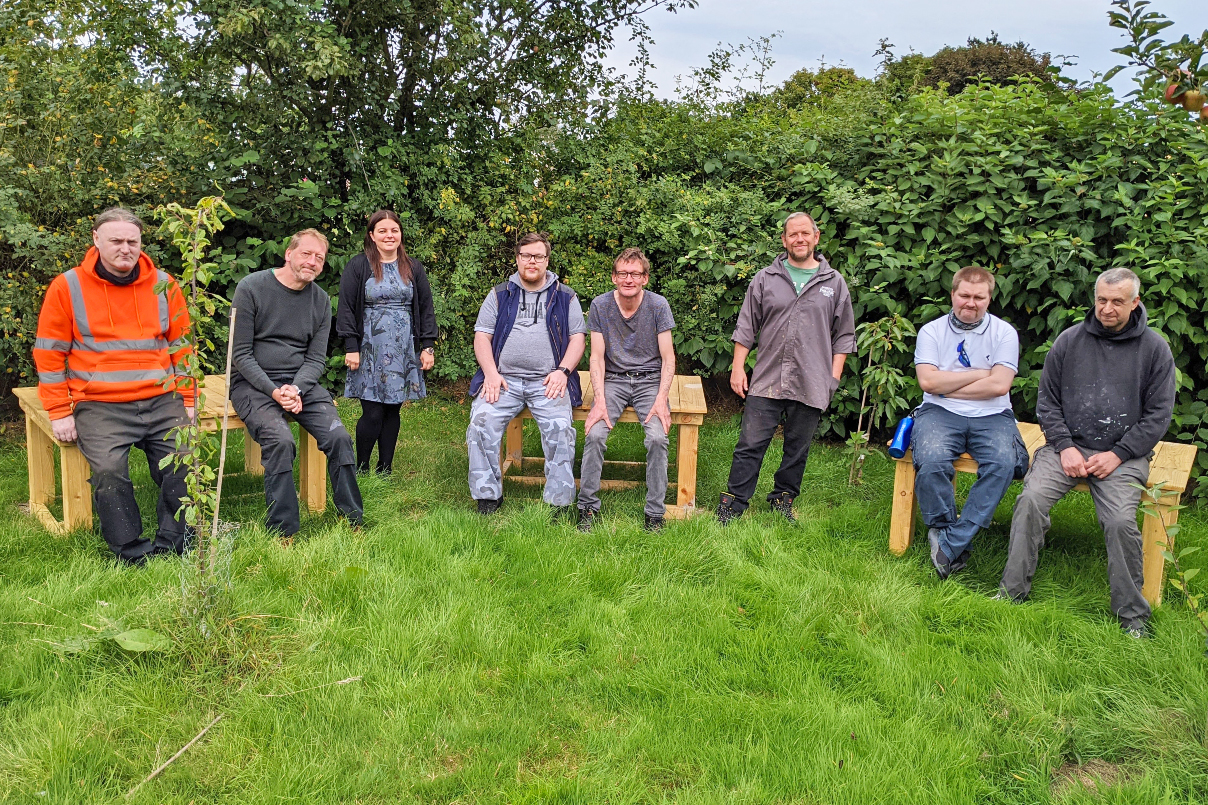 A local mental health charity has helped to make a group of schoolchildren's dreams come true, bringing their vision for a brand-new forest school area to life after vandals destroyed their original site during lockdown.
Staff and service users from Blyth Star Enterprises' woodwork and horticultural departments have worked tirelessly through the summer holidays to transform part of the playing field at NCEA Warkworth Primary School into a woodland wonderland, ready for the start of the new academic year.
The school posted a public appeal on social media about the incident, which is how the partnership with Blyth Star Enterprises was established.
Kevin Alexander, Supervisor at Blyth Star Enterprises' woodwork department, explained: "We were deeply saddened by what had occurred at Warkworth Primary's forest school site. It was just mindless vandalism and we wanted to do something to help put things right for the children.
"This past 18 months has been really tough on our young people, going in and out of lockdown and being unable to see their friends and family and just be normal kids. Playing outside, building dens and things is all part of that, so we were delighted to be able to support with the construction of the new forest school area in the school grounds."
'Forest school' is the name given to the outdoor education delivery model used by primary schools across the UK which encourages pupils to engage with the natural world to help them learn personal, social and technical skills. The programme also helps to promote environmental awareness and positive mental health and wellbeing through time spent in the great outdoors.
Having previously used an external site located around one mile away from the school campus, forest school has been part of the curriculum at Warkworth Primary for a number of years.
However, during the second coronavirus lockdown, the site was targeted by vandals who used the area as a 'drinking den' before setting fire to it, leaving the site completely unusable.
Working from a hand-drawn plan which was developed in partnership with the pupils themselves, staff and service users from Blyth Star Enterprises visited the school to scope out the project, which would include the build and installation of a seating area around the fire pit, six new craft tables for outdoor woodwork classes, two mud kitchens, a woodland assault course and a number of full height 'fairy doors' to create secret entrances to a network of willow tunnels.
Horticultural staff from Blyth Star's Stakeford Nurseries also agreed to supply and plant over 40 different trees and shrubs to help add to the site's woodland feel.
Laura Ritson, Headteacher at NCEA Warkworth Primary School, said: "We have been absolutely blown away by the enthusiasm, creativity and determination shown by Blyth Star Enterprises toward our forest school project. Every time Kevin and the team came to site, they had a new idea about how we could make the forest school even more magical for the children.
"Promoting positive mental health and wellbeing is central to everything that we do at Warkworth Primary which made working with Blyth Star Enterprises all the more special, knowing that our forest school project was helping to provide real work experience for people living with lifelong mental health conditions and learning disabilities. We really can't thank them enough for all of their hard work and it's a perfect example of how our shared community vision 'strive together as one' leads everything we do at NCEA Warkworth Primary."
"We've really enjoyed working on the project," Kevin added. "The volume of the work and the repetitive nature of some of the elements, such as making sure that all six of the woodwork benches were exactly the same, has challenged our service users and helped them to hone their skills as craftsmen. We really hope the children enjoy their new forest school – we can't wait to see the finished result!"
Providing living support and meaningful day services which replicate real working environments, Blyth Star Enterprises supports more than 350 people across Northumberland living with severe and enduring mental health conditions and learning disabilities.
For more information about the charity, or to find out more about commissioning a woodwork or gardening project, visit the Blyth Star Enterprise website today.