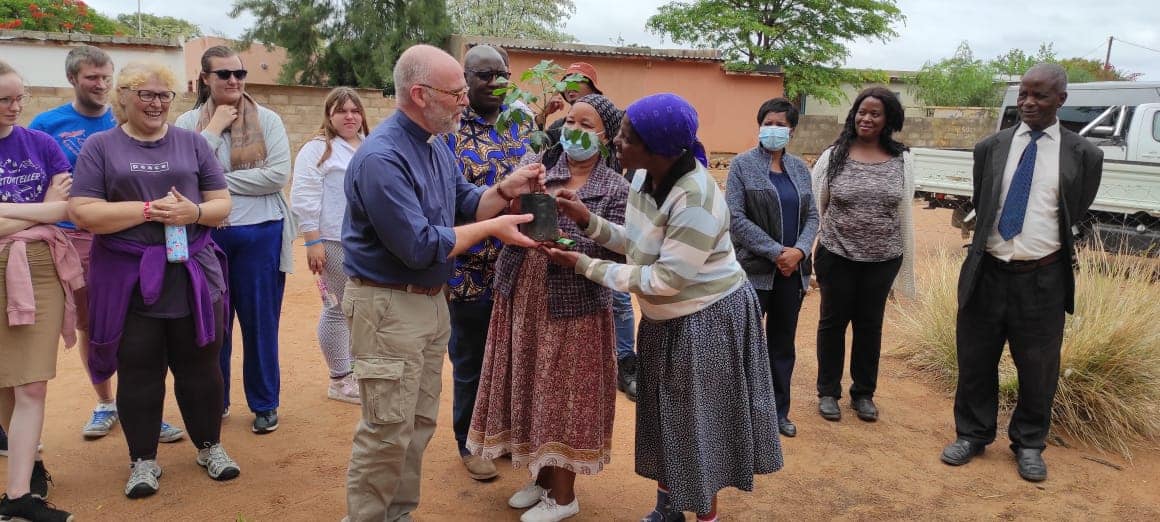 The word Ubuntu is the Zulu word for "I am because you are." Father Celestino, the Dean of Holy Cross Cathedral, Gaborone, Botswana told us that we had all experienced Ubuntu and that through our visit to Botswana we had all learnt something new from each other and we would take a little bit of each other home. We would never be the same!
How right he was. In November, 11 members of the Parish of Morpeth embarked on a long-awaited exchange, delayed for two years due to Covid. Many of the young people who were due to go were now at university or unable to make it, and those who could come were no longer young people anymore but adults, although in Botswana a young person is under 35! So, everyone was young apart from me!
We arrived after 27 hours of flying and were met by our driver and youth chaplain Father Bonnie. He was known to many of us as he had been several times to Staying Alive, our diocesan youth event.
Our hosts very generously welcomed us into their homes, which ranged from simple to affluent. Every home seemed to have Wi-Fi much to the relief of some of the younger members, so communications were very good. This enabled us to post each day on the parish Facebook site and update everyone at home. My host was ex-cabinet minister Dikgang Makgalamele.
The following day it rained and rained but with the temperatures at 18 degrees, it felt like home but a little warmer. Rain in Botswana is called Pula, it's the same word for there currency. Pula is the most valuable commodity in Africa, so unlike the UK, there were lots of smiles when it rained.
Some of us visited Holy Cross Hospice that like many organisations had been devastated by Covid but was getting back on its feet slowly. We were fed by the Women's Fellowship almost to bursting. Such hospitality! Over the next few days, we helped at St Augustine's theological college, planted trees at St Andrew's Mmopane, and were fed a few times by the amazing Mothers Union! I visited a little village 240km to say a prayer and ended up being asked to preach and pray for half an hour!
We visited youth groups throughout the diocese and were invited to several projects and church fellowships. We visited a cultural village set up to remind local school children about their culture and roots as western culture has started to erode and take over traditional values and customs. We ate local dished Pap and Seswaa and experienced every aspect of Botswana life.
On Sunday, I was asked to preach at both the 7.00 English speaking service and the 10.00 Tswana service, two and a half and three hours respectively. With an expected preach of 25mins, it was culturally an eyeopener! However, it was a joy and a delight, with the black hatted MU singing with much gusto and the Women's Fellowship in purple responding with beating bibles and whistles. What a joy! I so hope when I get to heaven the angels are singing and praising in Tswana!
We finished out week with the more athletic playing in the church football league (and winning), with Morpeth parish hosting a Braai (BBQ) with about 60 invited guests to say "thank you" but about 100 turned up! Thoughts of the three loaves and five fishes seemed to be appropriate as everyone was fed…in the end!
The following day we visited St Peter's day care centre in the pouring rain, said our goodbyes. We went to the airport realising that Ubuntu had happened and we would have Botswana forever in our hearts and that the friendships made would last for a very long time.
Dear Lord, we give thanks for our link diocese and all those who serve and worship in the diocese, bless them and us, now and always. Amen.
By Revd Canon Simon White, Rector of Morpeth.